White Paper: Project-based Management (PBM)
Guide for C-level Executives
What you will find in the White Paper:
A model for informed decision-making based on real project performance
A detailed description of the 4 core principles of Project Based Management
A collaborative framework for project leaders, C-level executives and Senior Management
Practical examples to understand the differences between managing projects and managing project-based organizations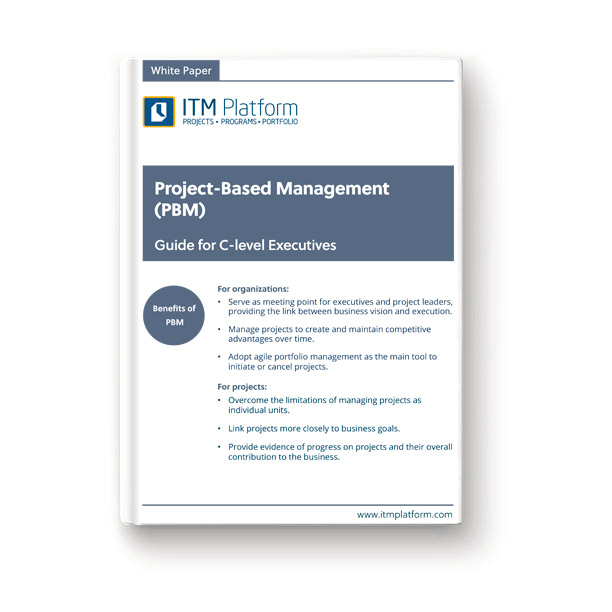 Transform your company into a competitive engine
This White Paper presents Project-based Management, a set of best practices that allow C-level executives to manage their project portfolio and apply their company's strategic plan.
Project-based Management provides a real-time, comprehensive vision of all activities conducted in an organization. As such, it supports C-level executives, but also PMO officers, program, portfolio and project managers that wish to develop their careers in a business-oriented path.
What does the white paper offer:
A model for informed decision making based on real project performance
A detailed description of the 4 main elements of Project-based Organizational Management
A cooperative framework between project leaders and managers
Practical examples to help understand the differences between managing projects and managing by projects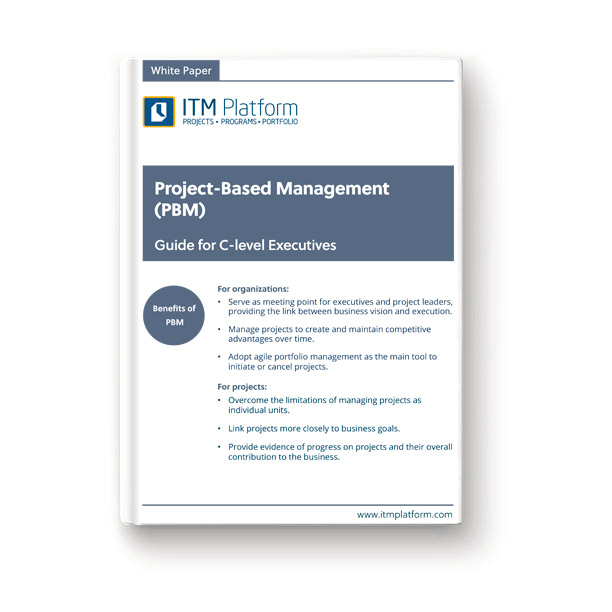 Combine business vision and tactical execution
 Plan the creation of competitive advantages that can be maintained over time
 Enforce informed decision making and project contribution to the business
Overcome project limitations as a management unit
 Connect projects with business benefits and objectives
© ITM Platform. 2010 - Present