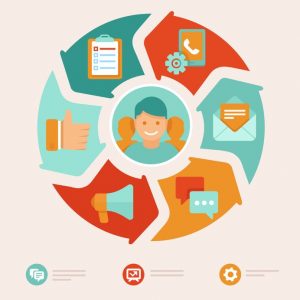 Being a project manager can often feel like a circus performer juggling a dozen balls at one time. The only difference is you have to juggle those balls within a strict deadline and, hopefully, within your budget too.
One of the biggest issues PMOs face is a gap in communication within their department and the many other parties involved in the project. Without stellar communication, any one of those balls could go flying out of place, obliterating your chances of successfully executing your master plan.
Start managing projects for all your customers with ITM Platform
When there is no room for error, the only viable option is to equip your team with the best possible tools for the job. Ensuring flawless communication is simple when you combine a quality project management tool with a leading customer relationship management software. This is especially critical for companies that run client projects. A great PM and CRM combo ensures that you can always track customer relations without losing a single detail on either end.
Actually integrating the two products is a snap. Industry-leading PM programs offer advanced API for developers that will allow you to connect to almost any existing system you already know and love. ITM Platform even provides a comprehensive array of APIs that are constantly updated to ensure they remain user-friendly, a key tool for advanced productivity.
With features like this, combining the power of your PM and CRM is a simple and streamlined solution to communication issues you'll want to prevent during your next project.
But how exactly does a CRM assist you with communication? A stellar customer relationship management program gives you the benefit of automatic communication tracking. Missing important information like that two-line email with a question from your client can be damaging to your project and relationship.
Beyond communications, you'll also have the ability to expand customer tracking with the ability to connect methods for purchases, invoices, client profiles, and suppliers.
Simple human errors, like a missed email or a faulty memory, no longer have a place in your carefully developed process.
Quality customer relationship management software will also offer automatic data sync. Once connected to your project management tool, the information collected from your ITM Platform mobile app, desktop application, and CRM platform will merge together. Information that gets added becomes almost instantly available for your entire team on every device. This makes information clear and accessible for everyone involved so your team can stay on the same page at every stage of the project lifecycle. Items like invoices, budget estimates, and revenue are readily accessible on programs like ITM Platform.
As a project manager, it is your job to ensure your comprehensive plan accounts for the flawless execution of tasks by all parties. By arming your team with a combination of outstanding PM and CRM softwares, you're sure to excel in your previously determined targets by creating a strong collaborative foundation.
If you're interested in learning more about how to get the most out of your project management tools, request a helpful ITM Platform demonstration now and get started upgrading your communication skills today.
Receive the latest blogs directly into your inbox