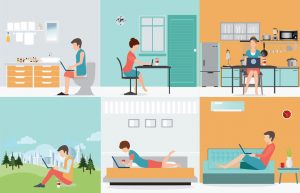 Many people are discovering that working from home is a great advantage, and companies are inclined to agree. Hiring a contractor over an employee, and using that employee to build a virtual team for projects, is advantageous in a number of ways:
Improvements in employee work/life balance

Little to no travel time

Higher ability to hire the best talent worldwide

Overall increased employee efficiency
While it is apparent that pulling in virtual workers for a team project is a great idea, it's also important to make sure the business avoids the following possible overall pitfalls. If these issues are successfully deterred, then working from home in a team project works well.
Manage a delocalized team with ITM Platform. Try it for free.
Losing Focus
When you work from home, losing focus is more of an issue than in an office. No matter how dedicated a worker is to a project, staying on task might become challenging. Avoid this situation by remaining highly professional when it comes to work. Becoming exceptionally organized, and understand your role on the team. This will help you maintain focus and stay on task with the project, because you will avoid being frustrated with lack of understanding.
Cultural Differences and Communication Barriers
Today's virtual world runs on a global scale. Anyone who has been on a virtual team understands this issue. While the project is in the planning stages, remain professional. Speak on a professional level, and use textbook English in all written communication. It is important to do this to avoid as many misunderstandings as possible. As the project moves forward, make sure communication barriers are broken down by asking for clarification when necessary. Most businesses will appreciate a question over having to redo a portion of a project due to a misunderstanding.
Technology and Data Access
All project team members must have access to the right technology to do the job, such as survey tools or company passwords. Remote projects depend on this access almost exclusively to get projects finished. Often, businesses will set up secure passwords for each team member. This way, if a team member becomes dishonest and acts in an unethical manner, the company will know where the breach happened. Be sure to keep your security information secret, only use it to work on projects, and never act in a way that would cause anyone to question your integrity. Make remote team projects work by acting as you would if you were sitting in an office with a boss breathing over your shoulder.
Lucy Wyndham
Receive the latest blogs directly into your inbox