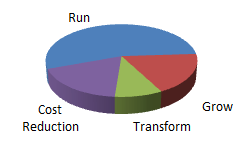 When running a company, it is important to have precise and correct information on how our business is being operated. A large part of business management is focused on the strategic approach to that business. However, implementation that follows the defined strategy is just as important as having a good strategy in the first place.
It is in the areas of implementation and control where the most serious problems often arise. It is therefore highly important to have mechanisms that simply and effectively allow us to ensure that our actions are following our strategy.
We will now take a quick look at a simple and useful model that has been in use for some time to classify business goals into the following categories:
Running the business: in other words, our day-to-day operations, what we need to do to keep the business operating.
Growing the business: in other words, increasing our operations, selling more or having more clients, achieving a larger turnover.
Transforming the business: in other words, changing our business, having things done in another more efficient, more effective way.
Given the recent economic climate, a new type of business goal has been clearly defined. It has always existed but was sometimes simply considered as part of running the business:
Reducing costs: in other words, increasing the profitability of our business by reducing the cost of our operations.
All the activity within an organisation can be classified according to these criteria. The projects, services and, generally-speaking, any activity by the organisation can be assigned to one of these goals. It is regularly suggested that practically all projects, services or processes within an organisation can be assigned to more than one of these goals, but such an approach often brings with it a degree of complexity that not only fails to help but can also be somewhat counterproductive.
By applying this classification, we gain a clear picture of exactly what our organisation's efforts and resources are being used for
If we classify our projects and services into these categories, we can obtain a clear picture of what the efforts and resources of our organisation are being used for. We will often be surprised to see that, although we may have grand strategic plans to transform our business, in actual fact most business activity is focused on the day-to-day and not on transforming the organisation.
Setting the right balance among business goals is a critical issue if we want to control our business not by randomness, inertia or whatever other external driving force.
Defining how we want to balance each one of these goals is crucial to taking our business where we want to go and ensuring that our organisation is not steered by chance, momentum or any other uncontrolled force.
In any event, having clear, effective and updated control over where our organisation is heading is fundamental to effective governance within an organisation. ITM Platform enables activities to be classified and analysed using this system and is therefore a highly useful tool for providing the information necessary for corporate governance.
Receive the latest blogs directly into your inbox