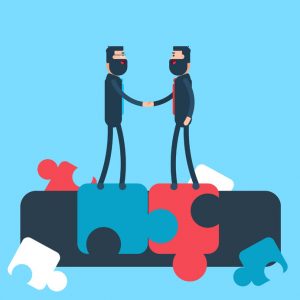 Although collaboration is an essential principle for a modern and innovative organization, it is worth remembering that it is not recommendable to embrace collaboration at all costs. The definition of a collaborative culture will have to be oriented to different parameters specific to each organization.
Collaboration for PMOs: advantages and disadvantages
If you are convinced that your organization needs to improve project collaboration, you must make sure collaboration is properly oriented and directed towards the goals of the organization.
For example, collaboration is a priority in innovation intensive organizations dedicated to the design of new products and services: the more ideas are gained, the greater the innovative potential. In these cases it may be important to collect inputs from all interested parties and even to determine a iterative procedure, whereby each design phase is subject to an open round of discussions.
However, in organizations with more predictive projects, a culture of open and uncontrolled collaboration can be pernicious. Even destructive:
Hierarchical validation procedures are proportionately related to deadline compliance
Informal communication relies on people, not processes. That is why large organizations and teams with high turnover suffer especially when they fail to combine collaborative elements with standardized procedures.
1. Project Management
Despite the risks of open collaboration, the risks of not collaborating are also high. A project manager who does not delegate, share information, or accept comments beyond the established channels becomes a bottleneck that can choke the entire organization.
On the contrary, among the collaborative responsibilities of the project manager is the habit of sharing knowledge with all stakeholders: team members and executives, clients, suppliers, or public entities in the case of tenders.To avoid being lost in this web, it is very important from a certain complexity to determine what tools, documents and processes are right for each stage.
2. Project collaboration
​ Another advantage of a collaborative controlled culture is that team members can benefit from cross-pollinization. Again, this is a very important aspect when the project presents unknowns or new problems to solve.
Some practices to make ideas flow:
Use open spaces
Use equally open chat tools: instead of email, a chat service for channels such as Slack, for example
Adopt SaaS tools, so that your computer's hard drives do not become black boxes
3. How to combine closed communication and standardized procedures
Unfortunately, these days it is not enough to be productive and execute a list of tasks within a project. Actually, we have many applications based on a timeless distribution of activities or the check-list approach , which, although they are very valid for certain functions, do not serve for the execution and planning of professional projects. The most difficult in these cases is to get the right balance between collaboration and controlled information.
ITM Platform Teambot is an application for Slack that allows, precisely, to speed collaboration through the messaging chat that has taken a robot to Mars while incorporating the strengths of an ITM Platform capacity planning tool. Where Slack adds the collaborative dimension, ITM Platform adds the control.
In fact, ITM Platform Teambot, created for all team members, is the most convenient way to use ITM Platform:
It allows to recall tasks and projects
facilitates reporting processes
Links seamlessly to ITM Platform
Advantages of ITM Platform Teambot:
Teambot is the only project management application in Slack that, besides allowing to recall information, offers the possibility to use agile and predictive methodology in the same integrated portfolio
Share knowledge and cooperate with organizations that integrate different hierarchies or open teams
Check projects and tasks in seconds
Report your progress from Slack and without ever having to log in to ITM Platform
Request a demo of ITM Platform and we will tell you how to establish successful collaborative practices for your projects.
Receive the latest blogs directly into your inbox