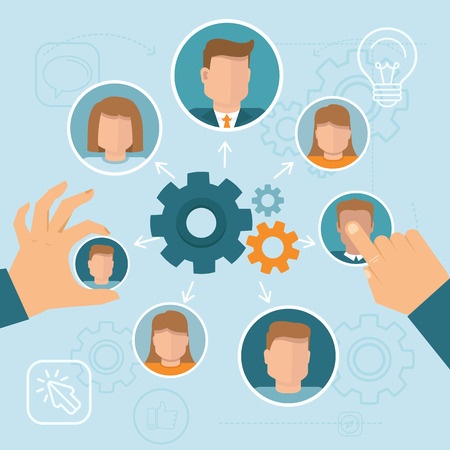 This is one of the ways to assign a certain task to a worker. Unfortunately, it is among the most frequent, but the least effective.
Imagine that something similar happened in a hospital. A patient who has suffered an accident and has fractured a leg comes to the emergency room. Who should care for this patient? Any doctor, who is free at the time? Or would it be better for the patient to be taken care of by a specialist in trauma and fractures?
In this example, the answer is clear. However, it is not straight forward when allocating resources and workers to projects in a company.
Allocation of resources: key to efficiency
Appropriately allocating tasks will ensure that each worker is engaged in projects for which he or she is more skilled or more experienced. By ensuring appropriate allocation, it is possible to improve the efficiency of the company, obtaining better results in less time. The result is greater profits for the company and for workers at all levels.
Economic benefits. The quality of the results will be greater, since the project has been executed by a specialist. In the example above, there will probably be better patient survival rates and better functional outcomes (less pain, faster recuperation, etc.) if the physician is a specialist.
Increased confidence. The achievement of good results is in itself an outstanding value for obtaining new clients. Returning to the example, if the patient is satisfied, he is likely to recommend the clinic to other patients who present the same problems, which, if they have the possibility, will choose the option they consider the best. Likewise, if a company satisfies its customers, they will become a source of publicity within their professional sector.
Temporary benefits. It is possible that a specialist and a layman in this instance will achieve the same result in the end, but it will probably take a lot longer for the layman. This additional time incurs an expense in the form of opportunity cost: the additional time dedicated to the task by the lay worker could have been used to perform another task, therefore losing both time and money. In addition, the fact that a worker who has no experience is engaged in performing a certain task, increases the risk that they will not be able to complete the work on time. This is another reason why a suitably qualified worker should be assigned to each appropriate task.
Benefits for workers. Focusing on tasks for which you have prior knowledge and preparation, allows you to obtain satisfactory results for yourself, which allows personal self-realization and decreases stress levels.
Assignment of tasks: aspects to consider
What aspects should be considered when assigning a task to a particular worker?
Skills. This is the most important thing. Does the person we are going to assign to perform this task have the necessary skills to be able to execute the project completely and successfully? If the answer is yes, there is no doubt, this is the right person for this task
Experience. Has the person to whom we will be assigning the project carried out similar tasks previously? If the answer is yes, you will have valuable experience that you can use in the realization of this new project. In addition, it will present less uncertainty and more confidence, since they have managed in the field previously, therefore should require less support from management and colleagues. In this instance, experience could be more important than skills. If a worker is qualified to perform a task but has no experience, he or she may still need to receive some support during their first steps, to become fully comfortable.
Interest. Difficult to measure but very necessary for the success of a task. A worker may have qualifications in a particular area and also have experience, but that does not mean that he is motivated. Motivation is fundamental to be able to perform a task properly and be able to respond to new problems that arise during the execution of a project. Therefore, we must talk to the workers before assigning them a project and, not only assess their training and experience, but also take into account their motivation.
Cost. Using overqualified workers to perform relatively simple tasks is to misuse resources and imply an unnecessary expense. Going back to the example at the beginning of the article, it would be like occupying the specialist surgeon in organizing the appointments or the programming of the operating room. They are administrative tasks that can be performed by the surgeon, but it is preferable that the management team takes care of this to allow the surgeon to utilize their skill set and experience in the most effective way. In the case of personnel with less specialized qualifications, their salary will be lower and therefore imply a lower cost.
Geographic location. There are more and more tasks that can be carried out remotely, allowing the most qualified or experienced personnel to be hired for a specific role, regardless of their geographical location and without having to pay transportation costs. However, there are tasks that still require the physical presence of workers. Therefore, the economic, temporary and personal cost of moving a worker to a specific place to carry out a project, or selecting another worker who is already in the location but may be less qualified must be weighed up.
Availability. Obviously, to assign a task to a particular worker, they must be available. However, the fact that they are available does not necessarily imply that the task has to be assigned to the first worker that is present. Checking the availability of workers should ensure that new tasks are assigned fairly, however also making sure that the workforce aren't being either underutilized or overworked.
In order to keep track of the degree of utilization of the talent of a company or a project, it is essential to have efficient mechanisms for collecting information and reporting. The resource management module of ITM Platform allows you to check the use in a portfolio view, so that you can detect overlaps in the use of resources by different project managers.
Juan Delgado
Blogger
ITM Platform
Receive the latest blogs directly into your inbox