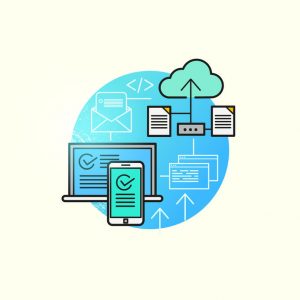 Download our comparison of MS Project versus ITM Platform
Industy standards that consolidate at certain historical moments are often more strongly influenced by the human tendency to conservatism than by the value they bring.
It may seem like a bold statement, but there is a plethora of literature on it. It will be clearer with an example: the QWERTY keyboard came from a salesman trick: agents who sold typewriters demonstrated the amazing ease of use by typing the word "typewriter" using only keys in the upper row of the keyboard.
However, many people still believe that the QWERTY keyboard was created after extensive studies on the relationships between English vocabulary letters and, therefore, is optimized for English speakers.
This is the case of MS Project, which appeared in the era of the personal computer and propelled the digital consolidation of project management methodologies in hundreds of thousands of organizations. Just as QWERTY has never been replaced by an alternative keyboard due to the resistance of the typographers (first) and the millions of users (after) who were already accustomed to a certain configuration, the continuity in using MS Project is not due to a rational comparison between alternatives evaluated on an equal footing, but the enormous power of continuity.
What both products have in common is the combinatorial use to generate a superior result to its parts. The integration of characters and components creates a coordinated meaning. In this situation, replacing all functions with different access modes in an alternative generates major issues in the transition.
But there is the difference between the two examples. While QWERTY has captured 100% of users, Microsoft Project only has 67% of the market share in project management, and 15% in portfolio management, according to Statista.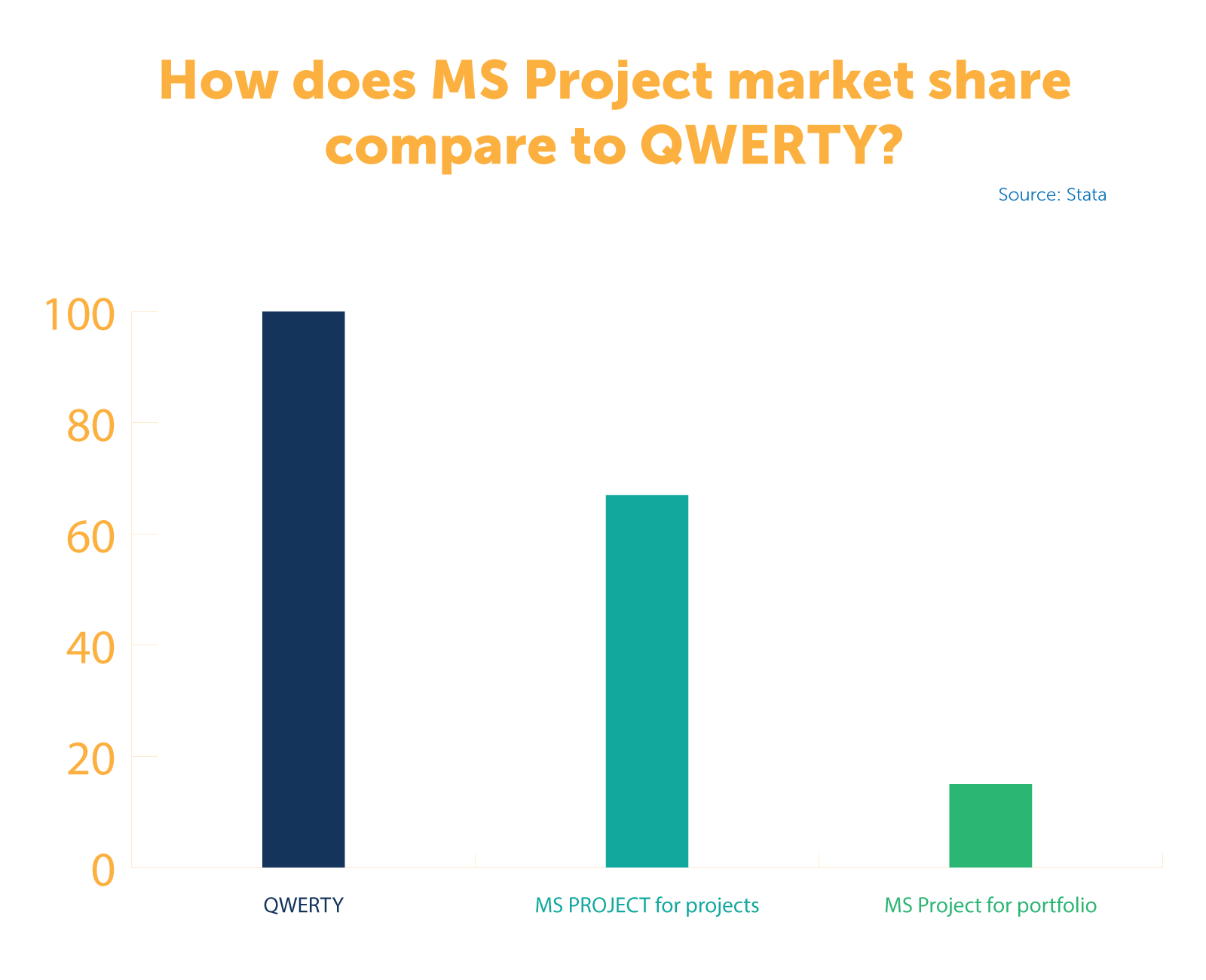 This rate will go down for one simple reason: MS Project is a product anchored in the past. There are many reasons to dismiss it in favor of a solution based on a contemporary digital paradigm, that is: collaborative, distributed and connected.
So, what are the main reasons for leaving behind MS Project?
The question could also be formulated in the opposite direction: What reason is there to continue using MS Project? It is fundamentally a desktop program and is for personal use? Is it that it's comfortable? Or a false perception of the balance between advantages and disadvantages?
Let's review the motivations for replacing MS Project with a SaaS solution like ITM Platform:
MS Project is single user (ITM Platform is multi-user)
In MS Project, the working model is a project manager who creates the project plan, saves it to a file on a local hard drive ... and makes changes manually.
"In ITM Platform, your team can be an army permanently connected." 
Overcoming the native limitations of MS Project as a desktop solution is very costly even for small teams. While ITM Platform is worth $ 1,000 USD per year to support teams of up to 7 people, that same amount can only serve 1.5 people with the most affordable version of MS Project online.
In addition, since MS Project does not have project approval mechanisms and state changes, anyone can make changes to .mpp files on a shared server without prior discussion, without approval flows or notifications to the parties involved.
On the contrary, ITM Platform works from a network model, so users do not work on files, but in environments: shared project ecosystems common to each organization. This model has important implications:
Users have differentiated access profiles, so they make modifications exclusively in their area of ​​responsibility;
No action by other users goes unnoticed: the system generates notifications about changes made to projects and tasks, as well as allowing contextual communications.

In short, thanks to the ability of team members to report hours and progress, the distance between planning and execution is much shorter and more efficient than MS Project.
ITM Platform is designed for strategic planning - MS Project is not
MS Project focuses on improving its timeline; ITM Platform in alignment with business objectives
When considering this aspect, the history of project management as a discipline is of particular importance. With its expansion beyond the fields of engineering to assert itself as an organization management model, the demands on the priority aspects with which software must comply have changed.
MS Project has not responded to those needs, having preferred to concentrate on the complexity of planning aspects.
In contrast, ITM Platform allows you to introduce business objectives, study different scenarios and make decisions based on actual data for which projects to execute.
MS Project requires expensive installations - ITM Platform is cloud based
"ITM Platform is a tool for organizations; MS Project is software for the personal use of project managers." 
This distinction has nuances: MS Project Server is the version for organizations that Microsoft offer. However, the process of moving from the personal to the organizational version can cost between $ 10,000 and $ 20,000. In addition, the on premises installation requires MS, SQL and Sharepoint servers as a starting point, as well as advanced technical expertise in those fields.
On the other hand, the deployment of ITM Platform in an organization is much more agile, since it does not require any type of installation (clarification: we offer on-premises installation for the organizations that demand it, but it is a marginal option among our customers). Including all parameterization and initial training, our customers begin to use ITM Platform in terms of between two days and two weeks.
Build a PMO in a week ... or in an eternity
"ITM Platform is an ideal tool to create a project management office." 
For adoption facilities and portfolio management capabilities, ITM Platform is an ideal tool for organizations that already manage projects from the initiative of individual project managers and that are about to create a project management office. While MS Project Server requires a remarkable economic and human effort to simply deploy the tool, ITM Platform is a catalyst for centralized management, thanks to the ability to focus on the methodological aspects that really matter.
MS Project does not offer control over basic integration components
The management of basic components of project integration - such as costs and billing of projects - are done outside of MS Project, so anyone who only accesses the .mpp file has no visibility to these modifications.
On the other hand, ITM Platform's solution includes cost management, making it an excellent candidate for integrations with ERP systems. Another example of the holistic ITM Platform approach is risk.
MS Project has a closed philosophy - ITM Platform an open philosophy
In the era of online business productivity, where most players integrate solutions through API to achieve more ambitious automation flows, Microsoft maintains a closed philosophy that only allows to connect their own solutions with each other: Excel, Access, and so on. Even so, the possibilities to connect MS Project are deficient. It is impossible, for example, to receive custom notifications in Outlook when modifications are made to projects.
On the contrary, ITM Platform strives to coexist with the systems of all our clients: we don't want to bring about traumatic changes.
Not only do we have a complete API for developers from any organization to connect their ERP, accounting or CRM systems; there are also integrations with JIRA and Slack, as well as an upcoming presence in Zapier.
MS Project is rigid - ITM Platform is flexible
According to Mark Corker, president of Seradex Web Services, software complexity and the repercussions of preprogrammed options to readjust dates in dependency tasks have the counterproductive result that 99% of MS Project projects have no reliable dates.
On the contrary, ITM Platform is based on a flexible software model: resilient adaptation goes from the technology to the user, and not the other way around. That's the reason why ITM Platform is enjoyed not just by project managers, but also by CFOs, CEOs, CIOs, IT Analysts, and a long etcetera.
Receive the latest blogs directly into your inbox