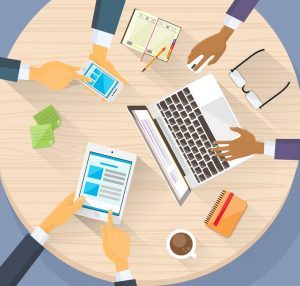 The current competitive context is always more crowded and tougher: there is a boom of very innovative start-ups which are a real headache regarding all kind of markets and which make new technologies a source of competitive advantages: this phenomenon is part of what we call "digital transformation".
In these markets, companies need to be more flexible to adapt quickly to changes – unless they want to face a competitive advantages loss with potentially terrible effects for all the organization.
For this reason, many companies turn to project management, the only strategy which guarantees enough flexibility and coordination in order to turn the business model into a competition machine.
Discover how to manage your organization by projects with ITM Platform's White Paper:

What is project management?
Project management is a combination of practices that translate the company's strategy into specific activities (or, more precisely, into projects), linked with the pursued business objectives and benefits.
Projects are not a tool for developing services anymore, they have become the value creation system for the company
In project management, the output of each project is a company's goal or a necessary factor to achieve it.
Project-based Organization Management (PBOM) is made up of four pieces:
Project portfolio agile management

Project management office with strategic functions

An extension of the planning of the projects to their consequences and benefits.

Talent able to combine technical skills with business vision
If you want to know more about these points, I recommend you read the white paper: Project-based Organizational Management
Which is project management role within digital transformation?
A company's digital transformation can easily become a messy and disorganised process, a response to business or operational problems without any leadership or any results. In order to face this risk, there is the need of a control mechanism that allows to manage the change.
A company can benefit from PBOM in several ways when it comes to digital transformation projects:
Aligning business units, departments and information management, avoiding integration difficulties between platforms and applications who are in more advanced stages.

Making technological solutions to be more solid as they are chosen considering not only temporary trends, but current necessities and, mainly, the future ones.

Managing as projects all the necessary means in order to guarantee the integration so that the process is not blocked in certain stages. Special attention must be paid to data processing, including the cleaning of information and its enrichment.
Real examples
It is easy to find examples of companies or whole industries which are redirecting their selves under a competitor with disruptive traits pressure.
Thinking, for example, about the emergence of AirBnB in the tourist market, it is easy to imagine the kind of transformation that many traditional agents must have carried out in order to keep on attracting clients.
Sometimes it is necessary to rethink the entire business model: from sales channels to price strategies, brand identity and technological structure. The only way to do it in an organized way is by managing projects.
This article belongs to a series on the Project-based Organizational Management. You can continue reading here:
10 pieces of advice when presenting to your CEO
 Keep on reading here:
Receive the latest blogs directly into your inbox