Onyriq represents a new generation of innovative companies pursuing the social impact of knowledge.
Ainhoa, Joseba and Mikel met at the University of the Basque Country (UPV-EHU) in San Sebastian while studying chemistry and specializing in polymers. Years later, the three have finished their postgraduate studies and greet each morning in the Parc Científic de Barcelona. Although they research together every day and haven't lost sight of the laboratories, chemical structures or trials, they don't teach nor receive a salary from the university.
These three chemists have started up their own company together with Oriol, an aerospace engineer based in Japan: a year ago, in September 2016, Onyriq was founded as a startup whose core business lies in the research, development and innovation of polymers. With a business model that is clearly focused on knowledge transfer, their objective is ambitious: to support the company with the commercial exploitation of its own research through licenses and patents.
Join Onyriq and start managing and evaluating your programs with ITM Platform
The day to day operations of Onyriq include the management of its research projects with ITM Platform. "We work with ITM Platform for both the execution of our projects and the development of proposals to clients, Since we calculate the differences between the proposal and the actual project (in budget, time and activities), that allows us to better know its profitability."
"Onyriq's example is representative of an increasing number of high value-added companies that are using portfolio and program management tools previously exclusive of large corporations"
In a market as broad as that of polymeric materials, Onyriq transfers technologies used across a range of industries, such as: aerospace, health, 3D printing or food. Their previous experience has led them to define three main lines of research: the synthesis and modification of polymers and biopolymers, the encapsulation of active compounds for pharmaceutical companies, and the functionalization of materials to impart specific properties. "We hope that companies with different core businesses that work with polymers can outsource the innovation of their processes by relying on us and our extensive know-how," says Ainhoa.

As for their service portfolio, Onyriq is divided into three corners: the transfer of knowledge with its own research, innovation on demand and training workshops. Although the marketing of own research currently has a secondary importance, the goal is to become the main source of income for the company. To reach this stage, Onyriq not only needs to manage its projects with professionalism, but also to continuously evaluate the different lines of research that group the different projects of the company.
The example of Onyriq shows how more and more high value-added companies need access to portfolio and program management tools that were previously only available to large multinational groups, but to which they have better access thanks to the appearance of actors who are betting on the democratization of the sector, like ITM Platform.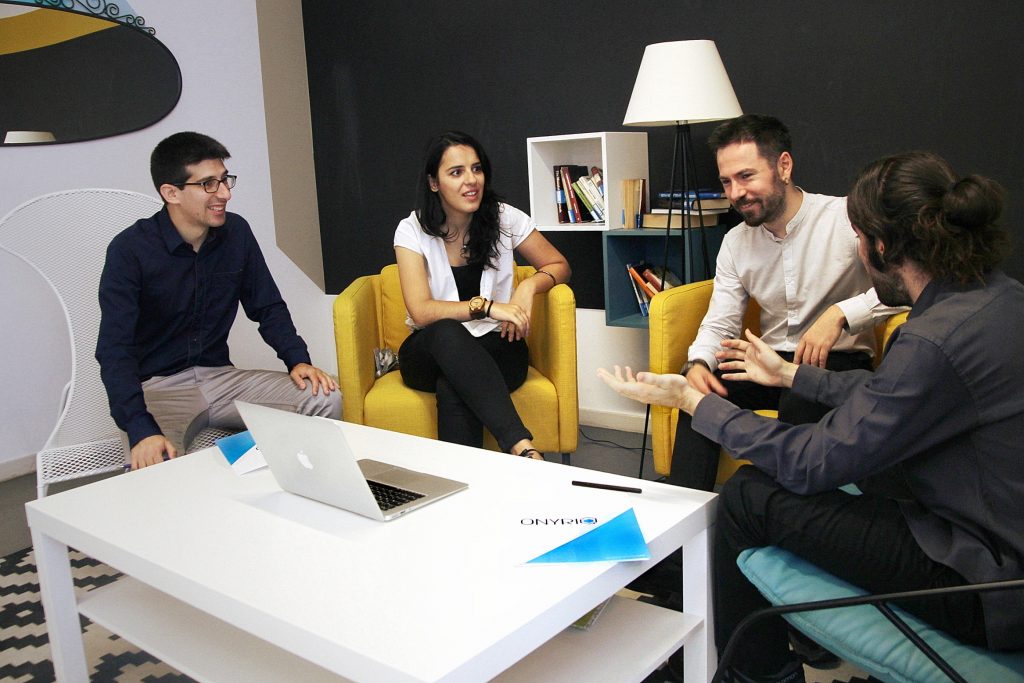 Program management, model requirement
Despite their youth, the Onyriq founders have already run European research projects with multi-million budgets. While managing a major project is not a major concern, researching without losing sight of profitability is indeed a novel challenge, and one that is hard to combine with the long-term vision required by academic research.
Program Management bundles the entrepreneurial and the scientific mindset. Given their previous experience as project managers, it was known from the start that a central piece towards sustainability was a tool that fulfilled two objectives: to allow the team to adopt professional project management methodologies, and to group similar projects with common objectives into programs.
"Program Management bundles the entrepreneurial and the scientific mindset."
It was then, after what Ainhoa ​​describes as an exhaustive process of searching and evaluating different options, they finally opted for ITM Platform. According to her account, "ITM Platform is by far the most complete solution we could find. And we tried many."
In addition to the unified management of the research lines as project programs, some of the benefits that favored the decision were the purchase and revenue management, with which Onyriq manages the benefits generated by the different accounts and associated suppliers, and the freedom to create both predictive projects and agile projects. If Gantt diagrams are perfect for preparing projects for customers, Kanban panels are widely used for more informal proposals and projects in which maximum visibility is desired for all members, so that coordinated progress can be made.
The fact that ITM Platform is not overly technical and allows the use of non-certified project managers has also been a very important factor in ensuring the continued use of the tool. Another important feature is flexibility: "we have been able to configure the tool to adapt it to our internal operating model".
"ITM Platform is by far the most complete solution we could find. And we tried many."
Balancing demand
As in any startup, over the next few years Onyriq will be dedicated to checking which business scenarios are correct and which need adjustment. Onyriq's B2B services are so closely related to the core business of customers that the future of the business will depend heavily on the relationships that consolidate in this initial stage. Although polymer applications are very broad, and many of them have an appealing niche potential, the Onyriq team is aware that the market will judge each line of research. According to Ainhoa, "the importance of the different axes of our activity will ultimately be proportional to the demand that we find. In a possible world, within five years we could patent a successful synthesis method for 3D printing of prostheses. Although we could get to specialize in the health sector, we know that diversification will key so we're not dependent on the economic cycles. R&D is so unpredictable that we must be prepared by measuring how things are moving forward."
That need for measurement lies at the heart of Onyriq's internal processes, which ITM Platform uses to meet its two major business goals today: financial independence and continuous change.
Financial Independence
Currently, contract research for companies outsourcing innovation accounts for approximately two-thirds of Onyriq's revenues, which are used to fund own research. So much so, that Onyriq's main goal for the next few years is to market its own research to become the first source of income. When that time comes, Onyriq will become more selective with on demand services. This will be the moment when the long terms of research will be better supported by the rest of the structure.
Continuous Change
Some knowledge transfer might not be good for business due to both technological risks and market trends. As in any innovative portfolio, it's important thing to combine projects with different expectations of profitability and risk levels so that more conservative projects support the most creative proposals.
"In such a changing and unpredictable environment as R & D, it is essential to be prepared and to measure how things are working at all times."
Onyriq's business processes require continuous measurement of different key performance indicators (KPIs) in order to calculate ROI and decide on which project should be part of the portfolio.
While all startups are expected to pivot and search for their model, for Onyriq that pivotal effort extends after breaking even. Knowing what research programs and which technologies are in greater demand or which sectors are more profitable will remain necessary for Onyriq to maintain the competitive advantage in an innovative market dominated by big players.
This business foundation gives Onyriq the strength to fight against the limitations of the most advanced scientific research. As Ainhoa ​​acknowledges: "Although technological centers and universities are committed to the generation of knowledge, this R & D is often not applied. The aim of ONYRIQ is to turn the potential of polymer science into innovative technologies or products with a positive impact on society and, in turn, enable profitable business models. To do this, we adapt our knowledge to the real capabilities of the industry and to the market situation. "
Receive the latest blogs directly into your inbox